Taji Bhajhee Tokri - City Farming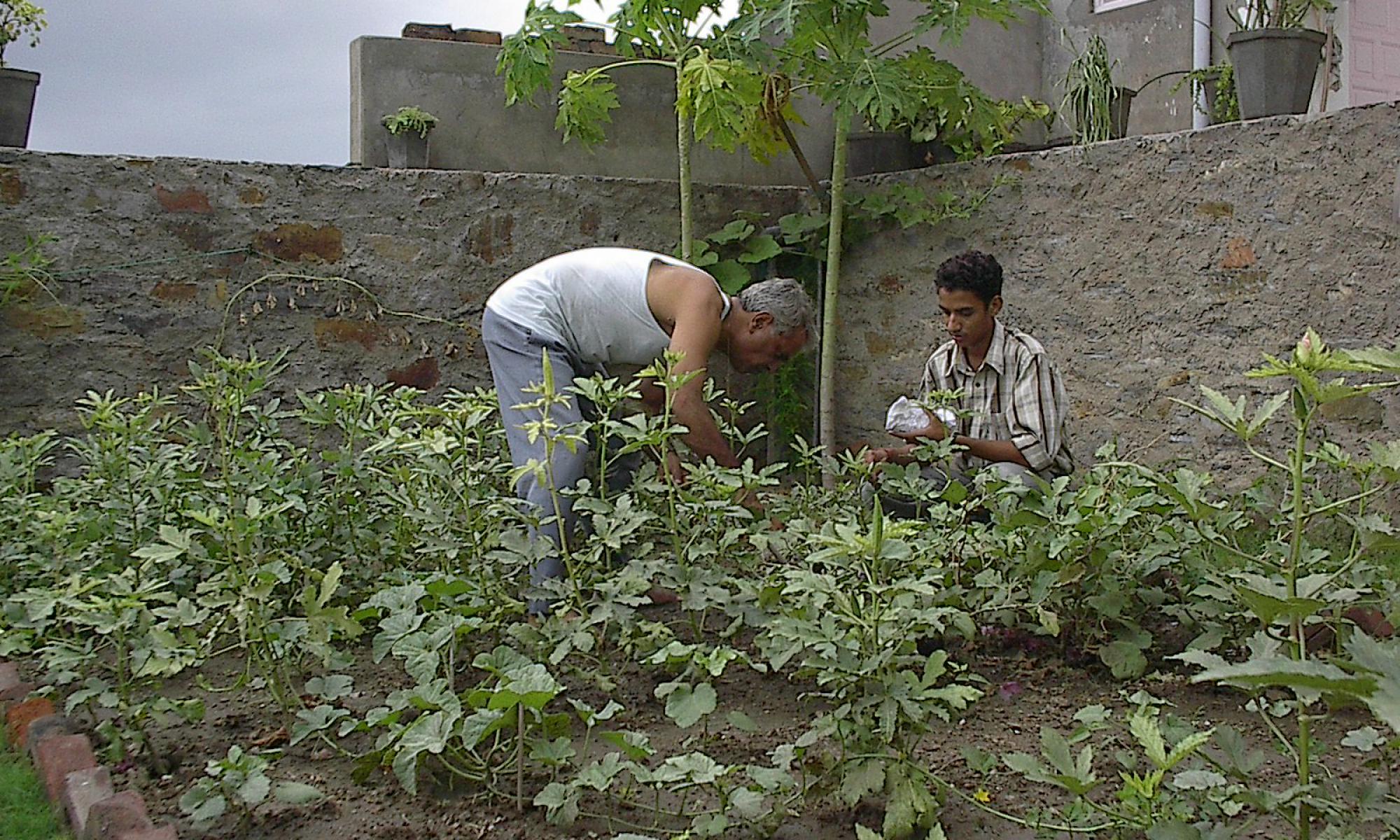 City Farming in Udaipur
In Udaipur many citizens are concerned with the poor quality polluted vegetables in the local markets. Fresh organic vegetables are often very expensive and difficult to get on a regular basis.
Rather than sit and complain, several youth got together in Udaipur and formed Taji Bhajhee Tokri, which is based in Shikshantar Sansthan, Fatehpura, to start growing organic vegetables and fruits in all kinds of places in the city such as rooftops, driveways, terraces, lawns, and empty plots. These youth visit people's homes and show them that it is easy to grow fresh bhindi, loki, turoii, kerala, gawar, baingain, palak, methi, sarson, mirchi, dhania in one's own home. They also encourage growing wild forest foods. They are trying to promote the use of traditional seed varieties which were more nutritious and tasty as well as amrit jal, vermicompost, and natural pesticides made of cow urine, neem, chaas, garlic, etc.
Hundreds of people in Udaipur are growing some vegetables in their home. Many people have knowledge from their ties to their village. Taji Bhaji Tokri team members Uma Sargara and Gaurav Singh said, "Our dream is that every resident of Udaipur, particularly all the children, should get to eat fresh organic vegetables and fruits every day. What good is our money, if we can't eat good food. We have to stop making excuses and get to action if we care about the future of our children."
If you don't have enough time, you can water your plants for 10 minutes every morning as part of one's daily pooja. Or cut down 10 minutes from your TV time. If you don't have enough land, you can grow on your roof, driveway, remove lawn or create a vertical hanging garden on your wall. If you don't have enough money, you can use empty plastic bottles, tin cans, old tires, etc. to plant in.
Besides giving us fresh vegetables and fruits, city farming is restoring our deeper connection to our local farmers and to the cycle of nature. Taking care of plants and growing food is a very spiritual and meditative activity. Growing food on your roof makes your roof a 'green roof' and helps keep the house cool while fighting global warming.
Taji Bhajhee Tokri is also collaborating with Pukaar group to help people plant fruit forests in the city. Rather than planting only ashok or neem trees, this project is supporting neighborhoods to plant clusters of at least 12-15 diverse fruit trees together like sitaphal, papaya, amrudh, anaar, lemon, sehjana, kikar, banana, jamun, anjeer, sehtoot. The key is to promote biodiversity of trees which is good for people and birds.
They are collaborating with Banyan Roots Organic Store on local seeds and partnerships with local small farmers.
Taji Bhajhee Tokri also collaborates with Shikshantar to run a volunteer organic café every Saturday called Halchal Café. One can come and taste many new organic recipes here.
One can find city farming groups popping up all over India. In Mumbai, there is Urban Leaves and Green Souls, in Delhi there is Sajeev Fresh and in Chennai there is Restore. They are creating beautiful productive farms in homes, community centers, school gardens, hospitals, parks.
There is an incredible joy one feels when you break the vegetable off the plant and feed it your child. We invite you to experience this with us.
For more information, contact Vidhi Jain <9829724189> or vidhi@swaraj.org.
A powerful Valedictory Address on decolonizing ourselves.
A brief note on the need to overthrow the present day "educational system" and call for the multiversities movement. 

Families learning together is a four day living together and learning experience at Swaraj University, Udaipur.

Learn about the art of sponging to pursure your dreams and join the Sponge Club.