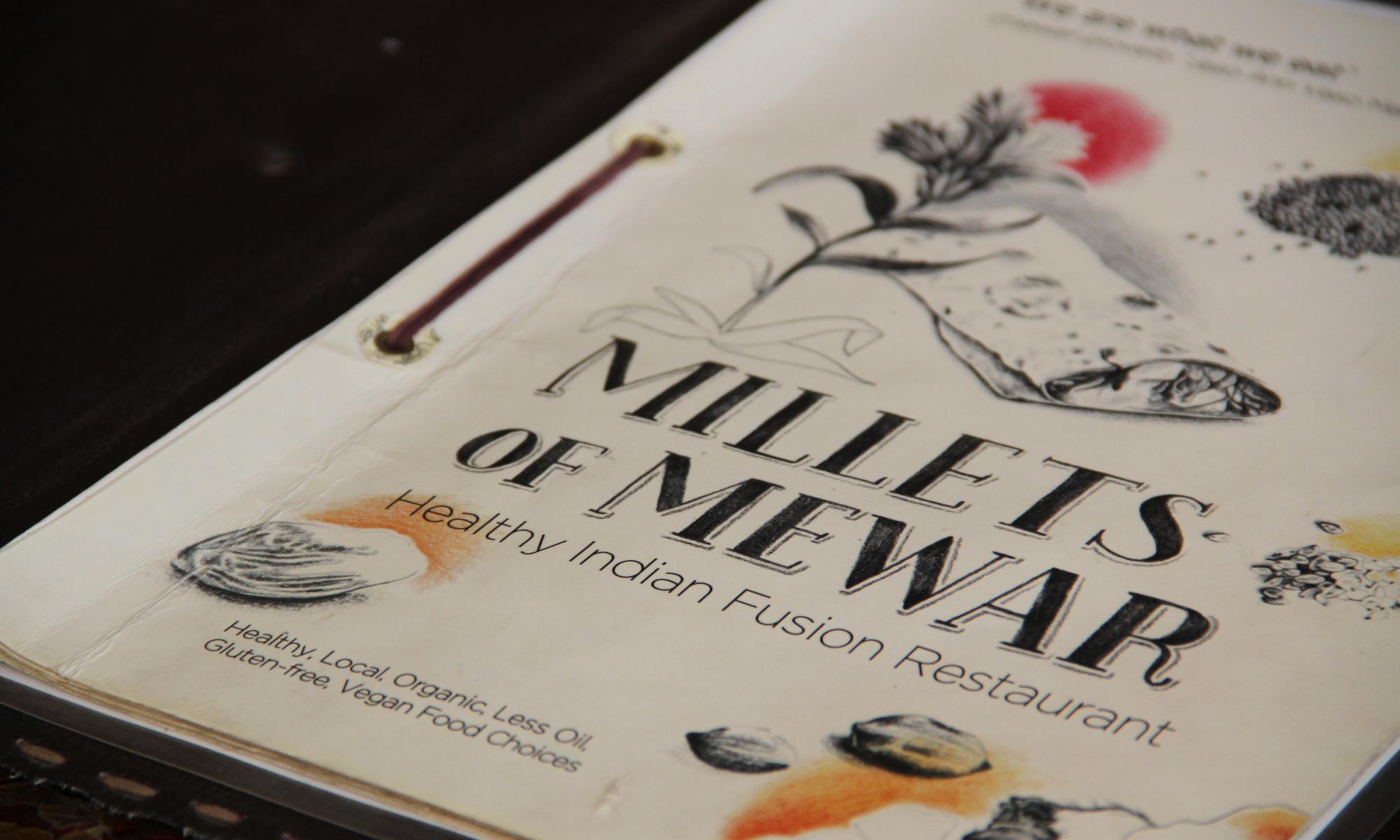 As one of the experiments of Udaipur as a Learning City -Millets of Mewar is an Indian fusion food restaurant in Udaipur serving millets (gluten-free grains), less oil & heatlhy foods..
The range of 120 recipes offers curries, multi-grain chapatis, brown & white rice recipes, multi-grain pizza, herbal & natural teas such as pomegranate tea/ lemongrass tea, vegan shakes, pancakes and unique desserts. Here is one of their recipes for Millet Aloo Tikkis.
 Millets of Mewar was founded by three school walk-outs Sunny, Manoj and Nirmal. After several years of working with Shikshantar and The Health Awareness Centre in Mumbai on pure and simple nutritious food, the team did experiments with various food items and presented them at food festivals, weekly cart, jogger's parks, community places. We also started getting wedding catering contracts and for official events.
The cafe was launched in October 2011 after a successful and well-appreciated nature & food festival in Bangalore. It is a young team at Millets who prepare and serve food with love, music and dancing.
The cafe hosts many events such as open mic nights, movie screenings, birthday parties, book exchange, etc. 
The cafe also takes volunteers and interns.
There are some sustainability features such as water bottle refill stations (RO water) to reduce plastic waste, using old unused materials to make furniture & decor, recycling, locally sourced foods, etc.
Using the various millets (local grains) available in different parts of the country, Millets of Mewar restaurant wants to bring back the dignity, respect and demand for these ancient & highly nutritious grains that are also eco-friendly as they require very low amounts of water to grow. They can grow in harsh, dryland conditions and some of them do not need pesticides so they are organic.
The cafe is owned by the Jaso Ann Vaso Mann (Mewari language term for we are what we eat) company that also does catering, cooking classes, food festivals and community events.
A powerful Valedictory Address on decolonizing ourselves.
A brief note on the need to overthrow the present day "educational system" and call for the multiversities movement. 

Families learning together is a four day living together and learning experience at Swaraj University, Udaipur.

Learn about the art of sponging to pursure your dreams and join the Sponge Club.